COMPREHENSIVE DENTAL HYGIENE
Get your routine check-up and a professional teeth cleaning.
Improve your daily brushing and flossing with Ballard Dental Arts.
Daily brushing and flossing remove a great deal of the plaque and bacteria that accumulates on your teeth, but it's nearly impossible to remove it all on your own.
Your dental hygienist can be your partner in achieving good oral health and visiting the dentist at least twice a year for a professional cleaning can prevent tooth decay and periodontal (gum) disease. Our dentist may recommend more frequent visits based on the condition of your teeth and gums.
What to expect at your check-up appointment:
We provide a range of services to help with your hygiene and overall health. Please select an option:
Here is what is included in your typical hygiene appointment.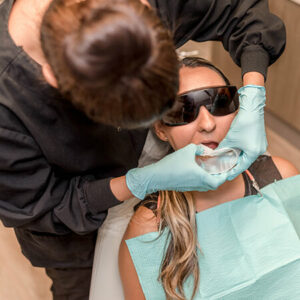 Visual & Gum Disease Evaluation
During the evaluation, your Ballard dentist will check for cracked, broken, or decayed teeth as well as looking for any abnormal areas on your cheeks, gums, tongue, and roof of the mouth.
Since gum disease affects almost 50% of adults in the U.S. (Center for Disease Control), we perform a comprehensive assessment during your exam to check for any signs of periodontal disease.
When addressed in the early stages, periodontal disease is easily controlled and possibly reversible. Since gum disease exhibits minimal symptoms until it is significantly advanced, it is important to be evaluated for early stages of the disease. Conservative, early intervention is best and our team will assist you in choosing the best treatment options for your condition.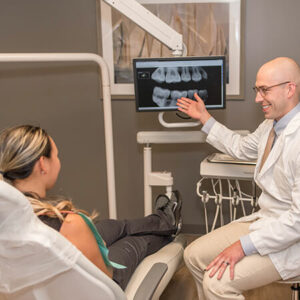 The dentist may recommend digital x-rays and photographs to help identify problem areas in your mouth. The type of images may vary based on your particular situation, but a full jaw x-ray, called a panoramic x-ray will give the dentist a comprehensive view of all the structures in your mouth as well as your jaw joint and your sinuses.
Digital 3D imaging may be appropriate in your situation to determine exact positioning of your teeth.
Your dentist may also use a special digital camera to take close up pictures of your teeth or gums. This will help them identify and monitor any areas of concern. We also use intraoral cameras to provide live images while we examine your smile.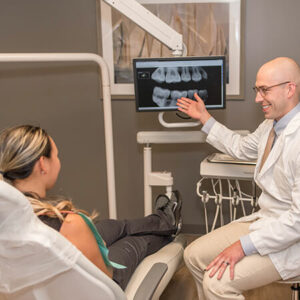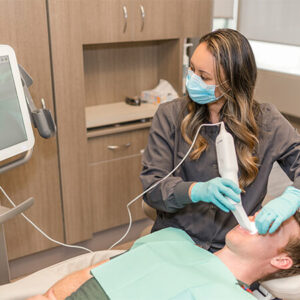 Cavity Prevention
The American Dental Association (ADA) recommends fluoride treatments based on your risk for developing cavities. Our team evaluates if your risk for cavities is low, moderate, or high, based on criteria outlined by the ADA.
Most individuals with low risk are offered a fluoride treatment twice a year.
Moderate risk individuals are offered fluoride twice a year as well as a take-home fluoride product to help reduce the chance of them getting another cavity.
Individuals with a high risk for cavities may be offered fluoride treatment more than twice a year, a take-home fluoride product, as well as an antimicrobial rinse to reduce the cavity-causing bacteria.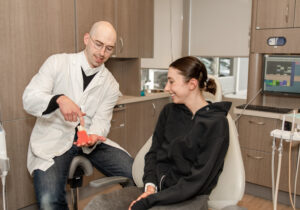 Professional Teeth Cleaning
All of our hygienists are well trained to perform a thorough teeth cleaning. Our team removes the plaque and tartar from your teeth and then polishes them to remove stains and smooth the tooth surface. In addition to hand-held hygiene techniques used by our skilled hygienists, ultrasonic devices deliver targeted treatments to hard to reach areas. These devices deliver ultrasonic vibrations to crush and move calcified deposits of calculus.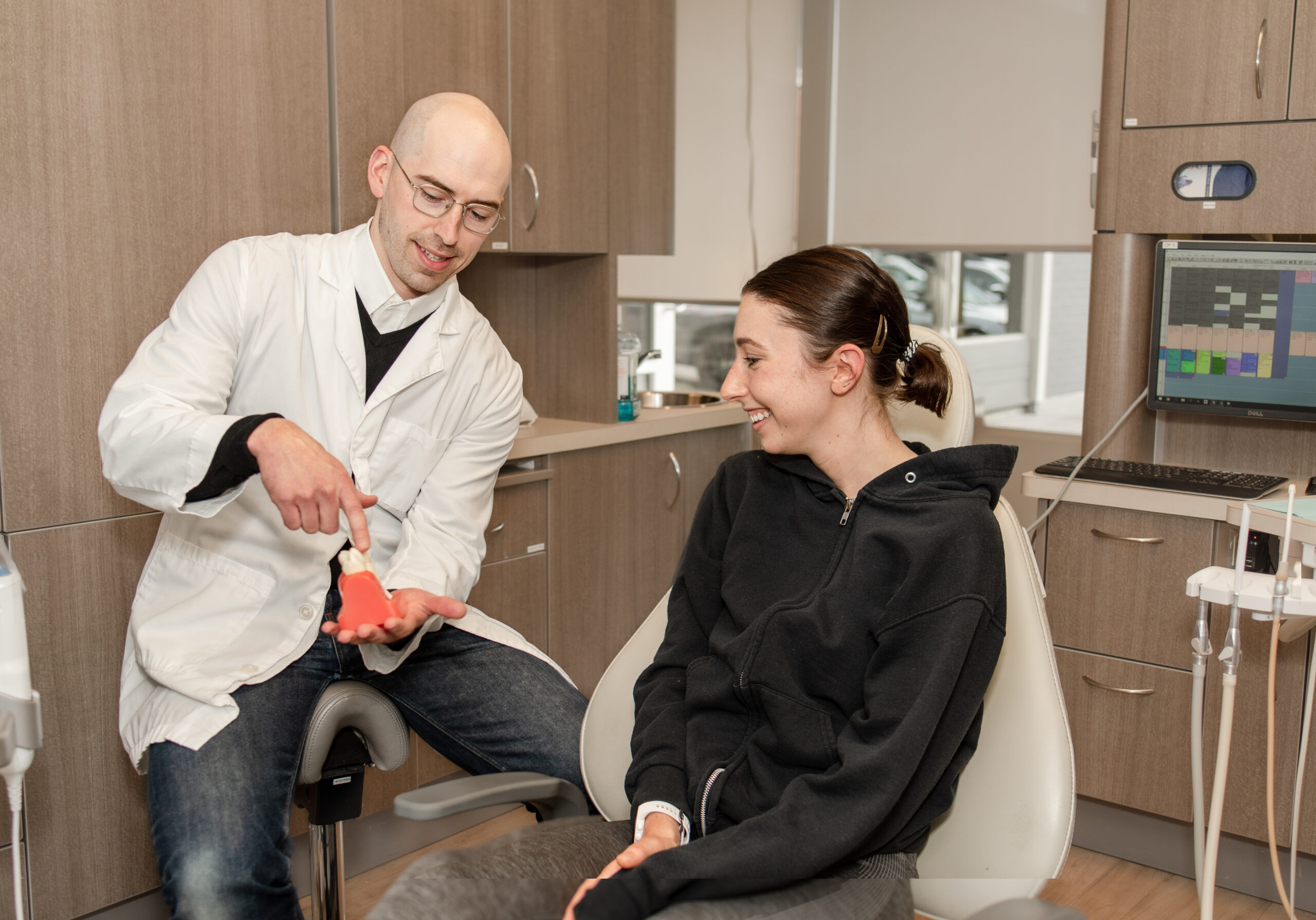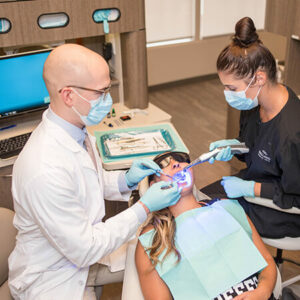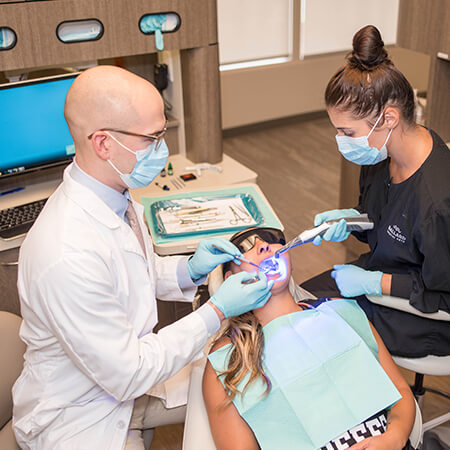 Development of oral cancer is on the rise. When detected in the early stages, most oral cancers respond very favorably to treatment. The risk of developing oral cancer increases five times with smoking, two and half times with excessive alcohol use and thirty-two times in the presence of a persistent HPV (Human Papilloma Virus) infection.
The dentist will look over all the tissue in your mouth, including your tongue, lips and cheeks, checking for anything abnormal. They will also feel for any unusual lumps or bumps and make recommendations for follow up if necessary. We also have the ability to do a salivary screening to check for an active HPV infection. Recommendations for reducing your risk of developing oral cancer include regular screenings and possible lifestyle changes.
Taking your dental care into the modern age.
Lasers have been used in dentistry for several years and provide additional benefits when combined with regular cleanings or therapy for gum disease. There are two specific procedures performed by the hygienists in our offices that can reduce your risk of gum disease or provide improved healing if gum therapy is indicated.
LASER BACTERIAL REDUCTION
Also known as "Laser Decontamination".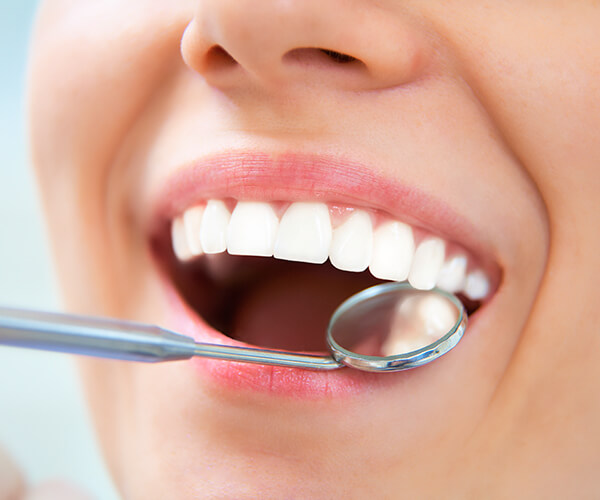 A procedure in which thermal, light energy is emitted through a small, fiber optic tip between the teeth and the gums. This energy is used to vaporize the harmful bacteria at or below the gum-line called biofilms.
Biofilms have been shown to be directly related to an increased risk of developing gum disease, a serious infection affecting the supporting bone. During your hygiene appointment, the hygienist will disrupt the biofilm to reduce the risk or severity of periodontal disease, but cannot eliminate the bacteria without the use of the laser. Destroying the bacteria will reduce inflammation in the gum tissue, and keep your gums healthier between visits.
LASER ASSISTED PERIODONTAL THERAPY
Laser Assisted Periodontal Therapy is a procedure in which thermal, light energy is emitted through a small, fiber optic tip between the teeth and the gums. This energy vaporizes the harmful bacteria at or below the gum-line and removes the infection.
Active periodontal disease is a result of this bacterial infection causing a breakdown of the gums and bone surrounding the teeth. Typically the infected, diseased tissue is removed with a procedure called curettage during gum therapy. It is a non-surgical, conservative procedure performed by your dental hygienist, using a local anesthetic.
Research shows that incorporating the use of the laser into gum therapy procedures "can produce an earlier and greater improvement in gingival health", and "these applications can be used to improve periodontal wound healing". The thermal energy produced by the diode laser stimulates circulation and formation of collagen fibers while reducing inflammation and bleeding.
There are no known side effects to incorporating the laser into gum therapy. Most patients report no discomfort during or after the use of the laser. Local anesthetic is utilized for most laser assisted periodontal therapies. It is also recommended to apply vitamin E oil following the therapy to provide a lubricant barrier and additionally promote healing.
Dental professionals now have access to this technology by using a laser specifically designed to treat the gums. Due to the advances in the production of these lasers, our office now has the ability to offer laser-assisted periodontal therapy as part of our standard of care. We are happy to treat our patients with an elevated level of care that is not only supported by the research but also affordable.
Although the laser kills millions of harmful bacteria during the procedure, the bacteria will multiply again over time, returning to original levels over the next several months. For this reason, we recommend laser decontamination therapy be included every time you see your hygienist. For some patients with a history of periodontal disease, this may be every 3 months. One of the most important factors in obtaining optimal oral health and controlling periodontal disease is the body's ability to fight off these harmful bacteria. Incorporating laser bacterial reduction into appointments following initial gum therapy keeps the bacteria at a lower level, giving the immune system a chance to keep the gums healthier.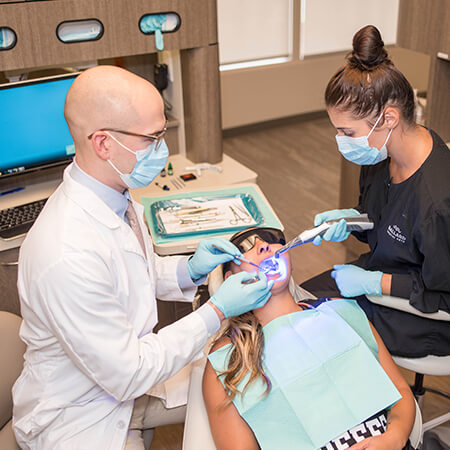 Friendly, knowledgeable staff, beautiful clinic, and the best dentist in Seattle!
Bret Ashlee Watson
04:37 01 Jun 23
My family has been going to Ballard Dental Arts for 5+ years and have been very happy with the care and service we have received. Dr. Tobler takes the time to get to know his patients and explains any treatment plans or recommendations. I've seen many different hygienists over the years, and all have been very professional. The office is always very clean and I never have to wait long for my appt. I recommend Ballard Dental Arts to anyone looking for a new dentist!
Kaylee Marcum
16:44 31 May 23
Excelente atención, nice people, very friendly and help all the time, is the Best Dental place, They work very hard, thank you Dental Arts.
Sonia Polanco
23:37 25 May 23
Scheduling appointments and check-ins are a breeze with friendly, professional staff. Direct, informed consultations with dentist help you choose best treatment plan. Technicians are well trained on all procedures, keep you informed on what's next, and are great at putting you at ease if you're a nervous patient.
Johnny Download (Kidneystoner)
18:04 24 May 23
Best dental care experience I've had. Great caring people from reception to procedures and post briefing. Highly recommend.
I had a great first experience with the practice. I felt reassured by the dental plan they put in place and the knowledge that was demonstrated
Mark Grassick
20:07 20 May 23
I've been going to Ballard Dental Arts for several years now, and have always had a great experience with all the doctors, hygienists and staff overall. Very warm and skilled practice - I always feel that I'm being cared for by a professional and compassionate team. Highly recommended!
Alyssa Stock
05:23 20 May 23
Super thorough, but very gentle cleaning and exam. Hygienist and doctor were equally thorough in treating teeth, tissue and patient as a whole.
Scott Levy
01:57 18 May 23
Dr. Tobler is fantastic! My daughter chipped her front tooth and the staff got us in right away. The office and staff are very professional, I couldn't recommend them more. We're patients for life.
Wendy Deaton
13:30 10 May 23
Our decade of dental care here has been nothing but great. Their staff is professional and caring, the environment is calming. A special shout-out to the dental hygenists (Jennifer!) with whom we spend most of our time during routine visits. They are the best! Of course, we wouldn't return if not for the excellent dentists themselves, but that's a 'given'.
Mary Ann Klosterman
03:23 08 May 23
I have gone to BDA for several years, and they have always been professional, courteous, careful, and extremely skilled at what they do.
Bob Stegner
01:38 03 May 23
I'm always greeted with a welcome smile. Everyone is friendly and helpful. Jennifer rocks! She is thorough and pretty much painless periodontal maintenance. Oh and she plays KEXP!
Shelly Nance
16:17 02 May 23
Ballard Dental Arts rocks! The personnel are kind, professional, and caring. They listen to their patients and make accommodations for my light and sound sensitivity. Highly recommended!
River Lamoreaux
01:18 28 Apr 23
Due to a cancellation I was notified that I could get in a hour earlier enabling me to beat the afternoon traffic home! Yay!
Dave Agnew
21:49 18 Apr 23
Great experience! Everybody was extremely friendly and helpful!
Claudia Cedfeldt
20:23 18 Apr 23
Ballard Dental Arts is a nice office, very clean, and the staff are professional and caring. Exactly what I want in a dental office.
Chris Bajuk
16:09 14 Apr 23
Service was great, staff and dr are friendly, and walking distance for me, so great location.
Barbi Stanik
01:57 12 Apr 23
My entire family has been coming to Ballard Dental Arts for ages. Ginny is amazing. Dr Tobler is very smart and professional and super sweet. Love this place. I only with I could get my Perio maintenance here.
Babette Farage
23:58 10 Apr 23
Professional EZ to understand made my teeth issues simple and paying for care very affordable ..There WORK IS EXCELLENT 😁😁😁😁😁
Michael Nordine
23:13 10 Apr 23
Best dental office & staff ever!
Francine Keller
18:27 10 Apr 23
I've been going to Ballard Dental for over 30 years. They've always taken great care of me. Friendly staff.
Rosie Hinrichs
14:29 07 Apr 23
Super friendly and welcoming staff. Everyone was knowledgeable and walked me through each step of the process so I knew exactly what my appointment was going to entail. The DMD was very gentle, thorough, and informative. I felt like I had been a patient there for years! Lucky to have found this practice. 10/10 would recommend!
Lauren Potter
03:52 07 Apr 23
Friendly, thorough and efficient. What more could you ask for!?
Mallory Lamb
23:48 06 Apr 23
Always very thorough and conscientious about pain in sensitive areas!
KT Hancock
20:12 06 Apr 23
Everyone here is so nice but Terri-Anne is my favorite. I hate getting my teeth worked on and she always manages to make me feel comfortable. All the doctors are great as well. Highly recommend this dentist office.
Danielle Dargavel
02:04 09 Feb 23
I really miss Jenny my old 15+ year hygienist but the new ones are okay too.I have been with Dr. Tobler since he opened this office.
Denise "Dee Dee" Thomas
19:59 11 Jan 23
Kavita is amazing! Staff and clinic are very patient friendly!
Shekinah Sj
18:30 11 Jan 23
Everyone is so kind and they make you feel at ease. The staff all are super helpful and make sure you know what to expect for the appointment and insurance. Great group and definitely would recommend!
Kathryn Telle
16:14 11 Jan 23
I've been going here for two years and it's always a great experience! Everyone is friendly, conversational, and very open about options and insurance costs. I also really appreciate the text/email alerts for appointments—super helpful!
Kate Reingold
22:28 09 Jan 23
I have been going to Ballard Dental arts for over 10 years, twice a year. They are relaxed yet professional, thorough, empathetic and painless for my cleanings. Their receptionists and office folks are friendly and efficient. I feel very lucky to have this practice so close to home.
Sidney Hacker
23:14 06 Jan 23
Great care and efficiency from Dr Lau and his team
Gabriel Stranahan
21:41 06 Jan 23
I have always found Ballard Dental Arts to be a great experience. On time and efficient and very friendly and informative about all my dental issues and needs.
Thomas Palm
22:36 05 Jan 23
I always come away from my visits to the Dentist with the good feeling that my teeth are being taken care of. My dentist Chris Tobler and his team are the best!
Bob & Kathy Hammer
01:35 05 Jan 23
Have been using Ballard Dental Arts since they opened. Dr Tobler and staff are great. My hygienist, Jennifer, is awesome. I highly recommend their gum laser treatments for those with less than stellar gum health.
Teresa Stern
20:31 04 Jan 23
My second visit to Ballard Dental Arts. Everyone I've met has been great; they use the latest technology to make the cleaning process as easy & painless as possible.
Always friendly staff. And consistently successful care. Easy parking. I am very satisfied with BDA.
Whitman Turner
02:30 03 Jan 23
Professional service through and through. My teeth are in great shape. Peace of mind.
Michael Smith
00:35 30 Dec 22
Very nice people; efficient office. I feel as though I get excellent care here (granted I've never even had a cavity filled here).
I've seen three dentists here and they all have been great! They listen to my concerns and make thoughtful recommendations
I just finished my 2nd visit with Ballard Dental Arts and I am very pleased . The staff is friendly, helpful and knowledgeable . The best part is the dentist here is not a slick money grabber. He gives you practical , honest advise on a affordable dental plan that is designed for you.
brian thompson
03:12 28 Dec 22
Favorite techs and assistants in the city! Ginny and Tink are top notch. 💕
Arianna Lyman
21:48 24 Dec 22
Very friendly and knowledgeable staff. I love my Dental hygienist, Jennifer.
John Kleinkopf
01:03 23 Dec 22
I became a patient of Ballard Dental Arts in 2020 because I lived nearby. During a routine cleaning, a small oral issue was discovered, and my kind and helpful dentist alerted me to the situation. He took his time to clearly advise me on what had happened and how long I could let it remain untreated. When I was ready to handle it, I was given quick and accurate estimates for the required procedure. The work was done quickly and exactly as described, and the improvement since has been incredible. I hadn't realized how drastic the change would feel and would have addressed the work far earlier if I'd been aware of how much better things could get.Ballard Dental Arts is a wonderful practice. The dentists are friendly and helpful, and the cleaning process is quick, easy, and comfortable. I may have started going here because it was convenient, but the fact that I continue as a patient despite having moved across town over a year ago is a testament to how glad I am to have found them.
Robert Wallace
11:02 22 Dec 22
Very nice and professional. Great deep clean and took care of the issue with my lower bridge which I'm very happy to have it done and out
Scott Morgan
01:11 22 Dec 22
Very well run provider with amazing professionals. Top notch in the Seattle area.
Mitchell Corwin
19:44 21 Dec 22
Been going to Ballard Dental Arts for a few years, they are nice folks, do a good job and don't try to sell a bunch of extra stuff. I always recommend them to friends when they ask about dentists.
Andrew Wiseman
17:49 21 Dec 22
Very happy with the experience and plan for my dental care.
Jason Rockhill
18:58 20 Dec 22
Quick to see the doctor. Thorough analysis. Immediate recommendations and great follow up.
Alexander Tulintseff
17:11 15 Dec 22
Been coming here for a year and a half now and they do a great job. Will return and continue with the 6 month cleanings.
Great dental office, Stephanie, the dental hygienist, was gentle and did a thorough cleaning of my teeth. Dr. Eggert was also great and thorough. He told me my teeth look great and at this time I didn't need to have any work done.
Greta Phillips
23:33 12 Dec 22
Ballard dental arts has been great to deal with, had many visits there and am happy with my results.
Sam Heitzenroder
00:29 09 Dec 22
Amazing and friendly staff. On time with schedule which makes for a quick in and out appointment. Great results with my teeth as well. Would highly recommend.
Tyler Lamance
16:48 07 Dec 22
I go for routine care and have had one filling replaced here. They're friendly, knowledgeable, and efficient!
Luke Campbell
22:49 06 Dec 22
Great experience! Professional and friendly staff and exceptional dentists and hygienists.
Mark English
13:56 06 Dec 22
Excellent service, explanation of processes as they are happening, and very attentive to my comfort and understanding of procedures. Highly recommend!
Erika Campbell
01:46 06 Dec 22
Rosmelys La Rosa
16:16 03 Dec 22
This office has a high care factor. It took a long time to get in as a new patient but I'm glad I waited. I have had a lot of dental work and they wanted to know everything before starting the exam. The team was caring, gentle and kind. I'm happy to be a new customer!
My family of four has been using Ballard Dental Arts for several years now. The team is always so kind and professional and they work well together to care for their patients. They are incredibly organized and every visit seems easy and seamless. I highly recommend them!
Rachael Gumber
18:19 02 Dec 22
My semi-annual checkup went as all my previous ones: friendly, thorough, and professional
Kim Peterson
18:58 01 Dec 22
Nice staff, short wait and good experience with the dentist. Happy to have found this office.
Scott Truax
23:34 30 Nov 22
I really needed to be seen for intense jaw pain. They made time for me that day and formulated a plan for this jaw pain. Very happy with Ballard Dental Arts.
susie someone
22:48 29 Nov 22
This practice is great, as usual. My Family and I have been with them for years, and the courteous service, attention to detail, and gentle demeanor is always appreciated. They also do keep up with current best-practices, so I'm always learning something new that help keep my oral heath the best it can be!
Liam Pingree
18:35 29 Nov 22
Ballard Dental Arts is a sure 10; Dr Daniel Eggert, DDS is a true professional with excellent care and artful results and Jennie his dental hygienist is just wonderful with outstanding cleaning techniques. Also the office staff is very professional as well, keeping in communication with every detail and reminder of appointments and assisting with insurance coordination. Terry Martin
Quantum Development
16:46 25 Nov 22
always frendly and very concern for your pain free visit.
Ed Alejandro
18:39 24 Nov 22
Always gentle, always explain everything they are doing. Dental assistants are amazing
I really appreciate the care and gentle style dentistry Ballard Dental Arts provides. Ginny (their Hygienist) is AMAZING! She's instructive, thorough and kind. For the first time in my life I don't mind going in for my check-ups! Now that's saying something!!!
julie campbell
17:59 19 Nov 22
Great dentist's office! Everyone is always pleasant and nice, and everything is easy and relaxed. Highly recommend!
Laurel Gordon
23:13 18 Nov 22
Fantastic staff, fantastic facility. Really take the time to treat you kindly with respect, make you feel welcome, and also take some darn good care of your teeth. Very soft touch, treat the gums nicely (even when your flossing habits need to improve!)Also offers a lot of extra great amenities to increase your dental hygiene. 10/10 recommend!
Bram Sciammas
16:26 18 Nov 22
Have had wonderful support with Invisalign through Ballard Dental Arts (also my primary dentist for routine checkups)! My technician went above and beyond in my recent visit to do extra smoothing on an uneven filling even though I was just there for an Invisalign fitting. Staff is all friendly and lovely.
Jenny Weis
16:21 18 Nov 22
Jenny is great! Always finds stuff in my teeth. RRay.
Robert Ray
17:37 16 Nov 22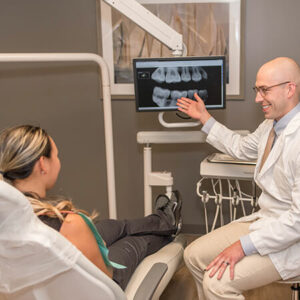 How often should I get my teeth cleaned?
The Academy of General Dentistry recommends seeing the dentist for a check-up and cleaning at least twice a year. Your Ballard dentist may recommend you visit more often depending on your specific situation and risk of disease. Some conditions such as diabetes, heart disease, or pregnancy may require more frequent cleanings to keep you and your mouth healthy.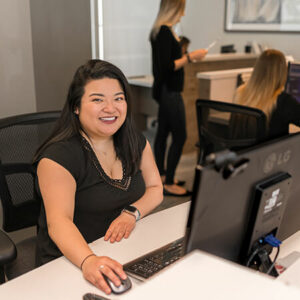 Will my insurance cover my check-up appointment?
Most insurances cover the procedures completed at a check-up and cleaning appointment. Our great team of insurance coordinators will help you navigate through your specific insurance benefits and provide you with an estimate of costs should there be a remaining balance after the insurance payment.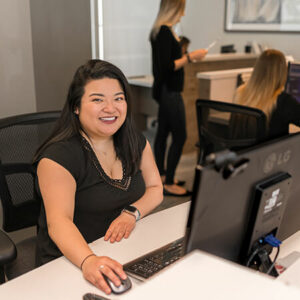 MAINTAIN YOUR ORAL HEALTH
Improve hygiene habits and enjoy a gentle cleaning with our team.